Vaporizer - Plant Material
Find the most famous brands of herbal sprays, as well as modern sprays,
Storz & Bickel, Arizer, Pax Lab and many others...
Vaporizer conventional laptops are admittedly often very powerful for their recreational or festive, but the Mighty vaporizer goes well beyond offering simply the best flavour in phyto-inhalation. Model 2018┃20% more battery ★ We offer you 8 Capsules, leave the charger full... ★ CashBack 2%
The vaporizer Volcano is the Roll's of sprays salon ! Volcano vaporizer is still number 1 for so many years.Adjustment of the temperature accurate and balloon system with valve to preserve all the steam. No bad taste will not interfere with your spraying, and the aromas are respected ! Robust and accurate, the Volcano classic is the ultimate in spray.
Tout comme son grand frère Mighty, l'inhalateur Crafty a les qualités requises pour une utilisation en phytothérapie et en aromathérapie, ce qui n'est pas le cas d'un grand nombre de vaporisateurs portables disponibles sur le marché, souvent efficaces uniquement pour une utilisation récréative et ne proposant pas toujours une conception 100% saine pour la...
The vaporizer Plenty, it is direct spraying, a vapor is cooled and the quality Storz & Bickel assured. With the temperature control and better ergonomics, the vapo Plenty is a worthy successor of the famous vaporizer Volcano !
Kit Ball Arizer Extreme Q includes 4 balls and 2 bits in the mouth in the glass.
Regular price
€256.00
-10%
Price
€230.40
The vaporizer Vap Pen Pax 3 is an excellent upgrade of the Pax 2 with the appearance of a dedicated app for smartphone and finally, the possibility to spray the concentrated plant ! The PAX 3, this is more steam, more freedom and more happiness !
Arizer Extreme Q est un vaporisateur de salon polyvalent et convivial, à un prix compétitif, aussi bien adapté à une vaporisation thérapeutique que récréative ! Pour Docteur Vapo, l'Extreme Q est sûrement le vaporisateur de salon qui a le meilleur rapport qualité-prix ! Ce vapo 4 en 1 ne vous décevra pas.
Here are the new solo 2 glass aroma tube (stem or mouthpiece right) of 9 cm length borosilicate-glass for Arizer Solo 2. This accessory, Arizer is compatible Arizer Solo, Arizer Solo 2 and Arizer Air !
The portable vaporizer Fenix Mini is a small spray of pocket by convection high-performance with digital control of the temperature. Fenix Mini certainly is the first of the small portable vaporizer performance with a vapor quality that does not burn the mouth and throat !!!
Arizer Go vaporizer is the latest vapo portable Arizer Tech ! Even more small, compact, ergonomic and innovative, the vapo Argo offers a wide range of temperature, a mouthpiece retractable and a system ofrechargeable battery removable !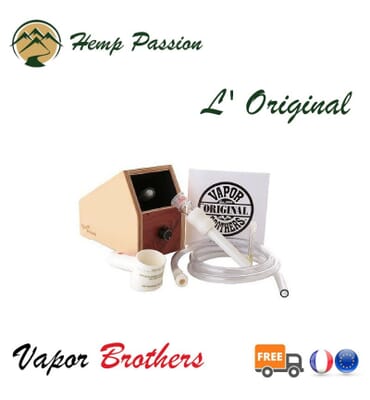 The VaporBrothers is a vaporizer with a hands free Whip, a diffuser of essential oils is extremely effective and perfectly safe certified. Replacing the ideal of the Silver Surfer Vaporizer. Vaporizer VaporBrothers since 1999, often copied, never equaled.