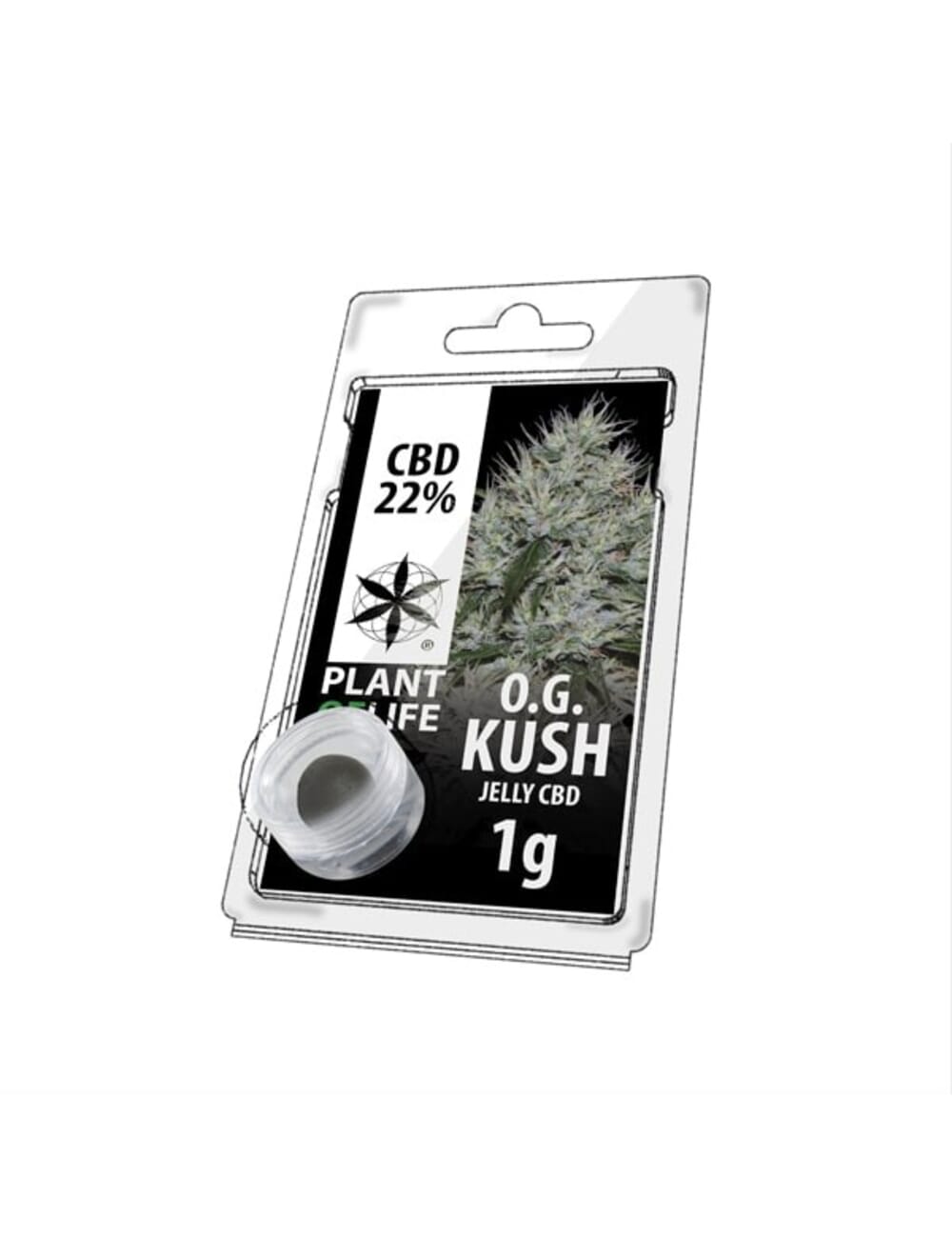 Jelly - CBD Jelly 22% - Plant Of Life
Reference: PoL-Jelly-ogkush
CBD Jelly,
Chocoloco, OG Kush, Gorilla Glue, Raw Natural, Mango Kush, Lemon Haze, Strawberry Diesel
Critical Mass, Amnesia haze, Blue Cheese, Blueberry, Pupple haze, Girl Scout Cookies, Sour Diesel
Contains 22% of CBD , Full Spectrum.
Extraction with CO2 is 100% natural.
THC 0%
Products without pesticides.
★ Compile your pack of flavors, and get a better price.
49€
Jelly 22% de CBD, Résine ou Hash de Cannabis, CBD Full Spectrum
la Jelly est souple et huileuse contrairement au pollen qui est un peu plus sec voir sablonneux même si il reste gras,
26 Terpènes variés, Fleurs et Fruits.
Plant of Life (Marque Espagnole).
Lire plus...
Jelly (résine) par Plant Of Life
La résine Jelly de est une extraction 100 % naturelle obtenue à partir des têtes de plantes de cannabis et aromatisée avec des terpènes de cannabis,
CBD Weed Jelly 22% est un produit ayant passé de rigoureux contrôles de qualité.
Il est 100 % légal puisque le pourcentage de THC est toujours inférieur à 0,2 %, valeur maximale autorisée, c'est pourquoi ce produit ne produira aucun Effet Psychoactif.
CBD Jelly 22% possède une concentration élevée de Cannabidiol, ou CBD, qui lui offrira d' importantes propriétés calmantes et analgésiques. Peut être consommé par vaporisation ou comme un complément alimentaire pas voie digestive.
Terpènes de Fleurs...
14 Saveurs
Amnesia Haze

Lemon Haze

Purple Haze

Og Kush

Mango Kush

Critical Mass

Blueberry

Blue Cheese

Girl Scout Cookies

Chocoloco

Gorilla Glue

Strawberry Diesel

Sour Diesel

Raw Naturel
Terpènes de Fruits...
12 Saveurs
Raspberry

Apple

Banana

Berries

Bubblegum

Cherry

Kiwi

Melon

Peach

Pineapple

Tutti Fruity

Watermelon
Caractéristique
Cannabidiol CBD 15.40%

Cannabigerol CBG inf à 0.01%

Cannabinol inf à 0.01%

Tétrahydrocannbinol THC 0.12%

Cannabichromene 0.35%

Cannabidiol Acide CBDA 4.55%

Total CBD 19.39%

Total THC 0.12%
Usage
Vaporisation

Inhalation

Préparation Alimentaire
Infos
Arrêté du 22 Août 2016 relatif aux produits du tabac et du vapotage
Data sheet
Cannabidiol Type

CBD Full Spectrum

Capacity in mg or gr

1 gr at CBD 22%

Flavours

26 Available

Cannabidiol - CBD (%)

Caannabigerol - CBG (%)

Cannabinol - CBN (%)

THC

0,12%
less than 0,2 %

Cannabichromene - CBC (%)

Cannabidiol Acid - CBD A (%)

Tétrahydrocanabinol Acid - THC A (%)

Total CBD (%)

Total THC (%)

Languages ​​on Packaging

FR / ES / UK
Specific References
ean13

0655222222831
Quick Compare
Product

Jelly - CBD Jelly 22% - Plant Of Life
Sour Diesel - CBD Hash 22% - jelly - Plant Of Life

Price

Rating

Description

CBD Jelly,

Chocoloco, OG Kush, Gorilla Glue, Raw Natural, Mango Kush, Lemon Haze, Strawberry Diesel

Critical Mass, Amnesia haze, Blue Cheese, Blueberry, Pupple haze, Girl Scout Cookies, Sour Diesel

Contains 22% of CBD , Full Spectrum.
Extraction with CO2 is 100% natural.
THC 0%
Products without pesticides.

★ Compile your pack of flavors, and get a better price. 49€

Sour Diesel - Extraction Co2 - CBD 22%

CBD Hash - Jelly, Souple et Huileuse

Contient 22% de CBD Full Spectrum.
Extraction au CO2 100% naturelle.
THC 0%
Produits sans pesticides.

Cannabidiol Type

CBD Full Spectrum
CBD Full Spectrum

Capacity in mg or gr

1 gr at CBD 22%
1 gr at CBD 22%

Flavours

26 Available
26 Available

Cannabidiol - CBD (%)

Caannabigerol - CBG (%)

Cannabinol - CBN (%)

THC

0,12%
0,12%

Cannabichromene - CBC (%)

Cannabidiol Acid - CBD A (%)

Tétrahydrocanabinol Acid - THC A (%)

Total CBD (%)

Total THC (%)

Languages ​​on Packaging

FR / ES / UK
FR / ES / UK

Availability