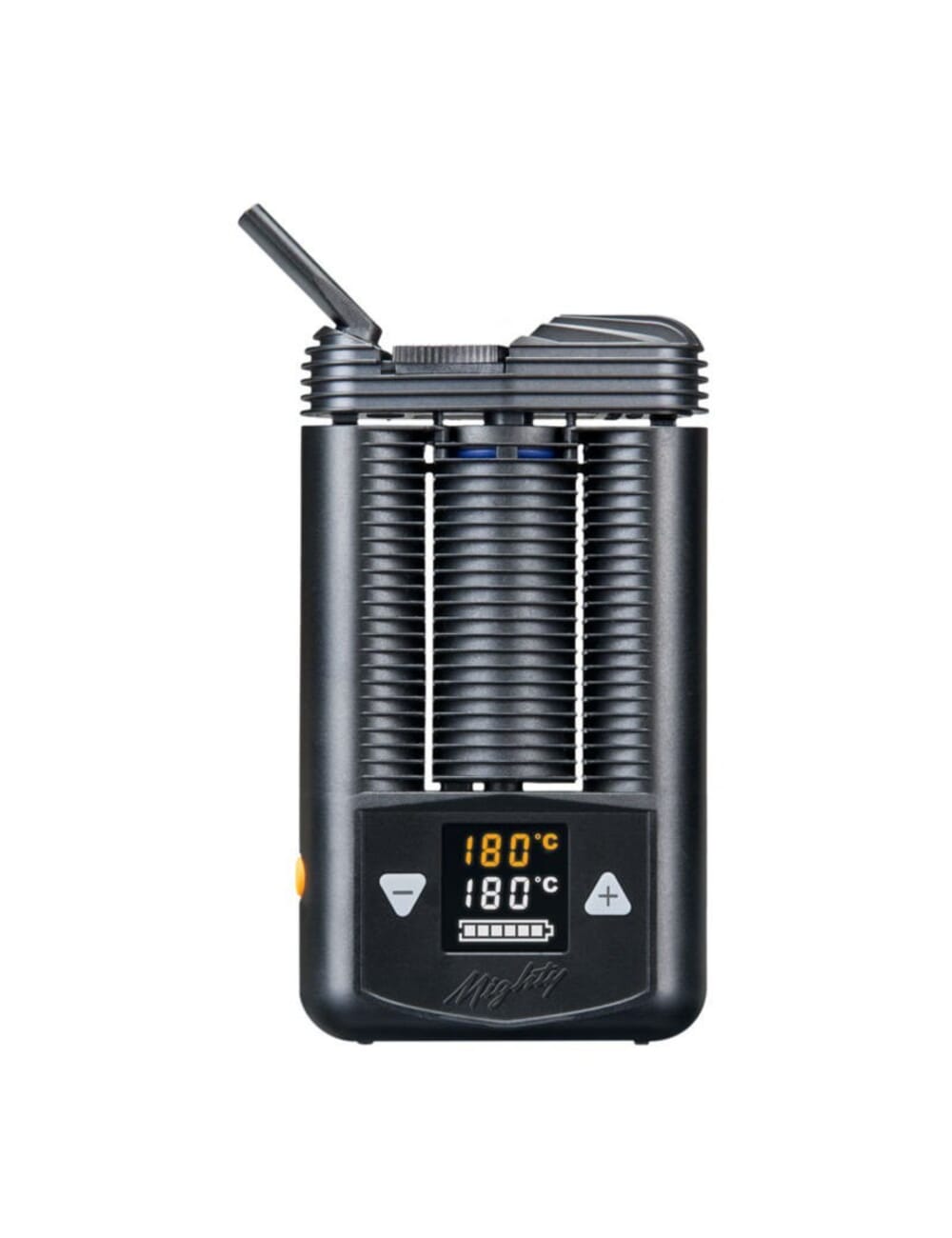 Mighty - Vaporisateur Portable - Storz & Bickel
VAT included
delivery within 3-4 days
Reference: Mighty - Storz & Bickel
Vaporizer conventional laptops are admittedly often very powerful for their recreational or festive, but the Mighty vaporizer goes well beyond offering simply the best flavour in phyto-inhalation.
Model 2018┃20% more battery
★ We offer you 8 Capsules, leave the charger full...
★ CashBack 2%
Mighty

, the Must of Storz & Bickel's portable sprayers for vegetable matter.
Mighty, the Must or the Rolls. No mistake possible, fine steam, sweet and pure. The Mighty spray is easy to handle. It allows the use of oil, waxes or aromatic mixtures. cannabis resins CBD, or Cannabis in the form of dry grass.
Heating System
Vegetable Materials
Vaporizer : Portable
Bluetooth : No
Documents
Our Offer
Mighty

vaporizer ; Top 1
The Mighty was a Mobil Vaporizer with hybrid heating system, Convection and Conduction, what has the effect of spread the heat better in the bowl. Made by Storz & Bickel in Germany known for its know-how, with the Volcano released in 2001, the first of the firm.
Tested and designed for medical Phytotherapy, the German manufacturer has specifically chosen high quality materials, for the design of this product, whether the Plastic used as well as the ceramic bowl, all is here designed to be at the top.
Mighty, Must or Rolls. no mistake possible, fine steam, sweet and pure. The Mighty spray is easy to handle. It allows the use of oil, waxes or aromatic mixtures. cannabis resins CBD, or Cannabis in the form of dry grass - Mighty is not designed to spray liquid or other liquid CBD with or without nicotine.
Mighty Face view
The Mighty has a large OLED display with a load indicator.
Simple to adjust, the Mighty offers 2 buttons + and -, set your temperature to the nearest degree..
A little engraving of his name under the screen is not present on the " copies that circulate on the net "...
Foot of The Mighty
The foot of Mighty ??? The Mighty can't stand alone, The foot is for standing.
It is also a cleaning tool, you can use it to scrape the bottom of the capsules, after a use for "resin".
Mighty Charger & Grinder
The Mighty is easy to fill, thanks to its loader which comes to screw itself in a quarter turn. Your Mighty clean around the bowl.
You can use your loader to store 8 Capsules ready for use.
Grinder : All herbs should be grinded well at the finest for optimum filling, and that air does not pass too quickly.
Mighty : View - Infra Red
The Mighty seen Infra red. As you can see the spread of heat, this means homogeneous.
The heating elements are located between the batteries. No unpleasant feeling in hand, "Too hot vaporizer"...
Mighty - Cooling units.
It is, in any case, a well-thought-out piece of work...
Composed of two parts sealed thanks to 2 gaskets.
A system can unlock or lock it.
Inside a whole system that allows
filter the Steam and cool it by lengthening its path.
No market equivalence...
The cooling unit, is replaceable,
Also the mouthpiece,
( optional mouthpiece made of glass or titanium...)
New option, stainless steel cooling unit - FTV
Mighty - Set of accessories and Options.
Many options for your Mighty. The most classic, mouthpiece in glass or Bubbler ???
News ... Titanium tip from FTV... and the possibility of replacing the plastic cooling unit with stainless steel...
With a revamped Steam path, and more freshness guaranteed.
Possibility of passing it through the fridge, before and after... For even more freshness...
;-)


Mighty - Set Included.
1 - Mighty Vaporizer

1 - Power supply unit 240 volt

1 - Spare gasket Set

3 - Spare sieve or grill

1 - Drop pad

1 - Filling accessory

1 - Feet or cleaning tool

1 - Grinder

1 - Dosage Capsules

1 - Cleaning brush

1 - Method of Use
Mighty - Feature.
Conduction Heating &

Convection

Cooling unit

Easy to use ( + / - )

Vibration, when at temperature

Automatic stop ( 1 minute )

2 batteries

Easy filling
Mighty - Replacement Set
Original mouthpiece

Original cooling unit

Spare gasket Set

Spare sieve or grill

Cleaning brush

Feet or cleaning tool
Mighty - Option - Custom
Glass mouthpiece

Titanium mouthpiece

Stainless steel cooling unit

Hydratube - Bubbler

Bang - Many Choices
Option
Mouthpiece - Glass

: not included in pack
Packs of 40 Capsules :
included in pack
Hemp Passion : Contact - Delivery - Payment
For any purchase on our shop, do not hesitate to contact us : support@hemp-passion.fr
For The Mighty the delivery is offered in France in standard colissimo.
If you live in a sensitive area, ask with signature...
Payment is by Credit Card, Visa or Master card, Secured by PAYLINE
You can find us on Ebay, payment by Paypal,
As well as on CDiscount for a 4-time payment,
( Prices may vary due to commissions of the MarketPlaces )
Data sheet
Capacity in mg or gr

Bowl 0,3 gr

Manufacturing

Germany / China
You might also like